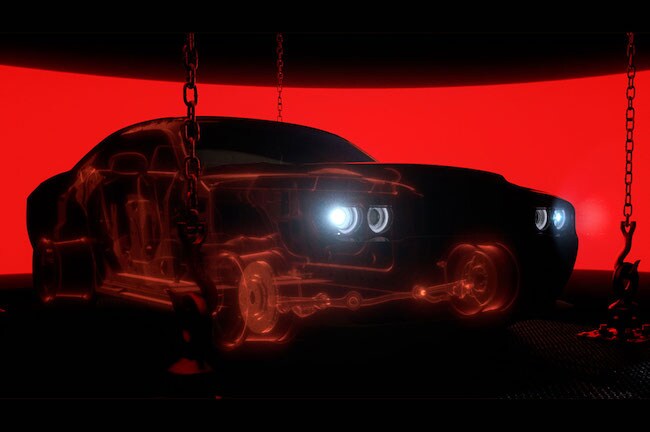 The hype is real...
If you're a fan of Dodge's impressive line of muscle cars then you already know about
their bombshell announcement
at this year's North American International Auto Show (NAIAS). Set to make its official debut in April of this year at the New York International Auto Show, the 2018 Dodge Challenger SRT 'Demon' is already driving the automotive world crazy with speculation.
Unfortunately, speculation is all we have at the moment. Dodge has been strategically tight-lipped concerning the details of their newest muscle car offering, choosing to
tease us with videos
that are high on production value and extremely low on actual information. But, that lack of info hasn't stopped gearheads from flooding the internet with their assumptions, expectations, and theories about what Dodge will be unleashing when they set their Demon loose in a couple of months.
With that said, here are just a few of the speculative theories that are gaining traction around the digital water cooler:
HORSEPOWER
Remember when 707 horsepower was a jaw dropper? You're gonna want to give those jaw muscles a workout before April. Speculation has been pretty hot over the number of horses Dodge will be squeezing out of their new mechanical hellspawn. The more realistic number is a very specific 757 horsepower (exactly 50 more than the chart-topping Hellcat), but some experts have chucked around numbers in the face-melting 800+ range. Whoever ends up being right, we're all going to be winners when Dodge reveals the specs in a couple of months.
WEIGHT
This is one we're locked in on. The Demon is reported to weigh over 200lbs less than the Hellcat, 215 pounds lighter, to be exact. You don't have to be a gearhead to know why this is a big deal. If you can imagine what cruising in a 4300 pound, 800 horsepowered road-rocket would be like, you should be grinning from ear-to-ear right about now.
UPGRADES
With the new powertrain comes upgraded braking, steering, and suspension systems. Toss in a set of uber-thick, super-sticky tires and the baddest looking (and largest) cold air intake on the market (The Air Grabber) and you've found your new dream car for 2018.
So far, that's as much detail as we've been able to gather on this one-of-a-kind muscle car. Needless to say, we're going to be chasing this demon all the way to the big reveal in April when we will share the full scoop on Dodge's newest member of its award winning stable of muscle-bound road chewers. Stay tuned, Demon Hunters. There's much more to come...