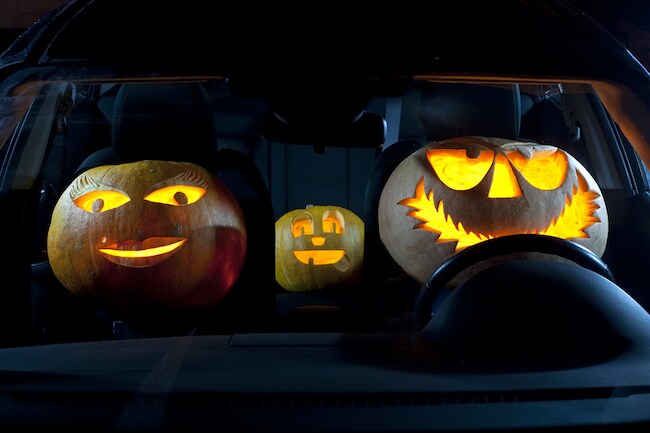 As hard as it is to believe, the end of another year is fast approaching and with it are plenty of driving challenges for motorists to be aware of starting with Halloween night. State Farm commissioned a study on Halloween pedestrian injuries and fatalities from Bert Sperling of Sperling's BestPlaces. What they discovered was an alarming pattern that all parents and drivers need to be aware of before leaving the house on Halloween night.
Researching over four million records from the year 1990 to 2010, Sperling's BestPlaces concluded there was an average of 5.5 fatalities each year on October 31st. While that number may sound small, it should be noted that single stat was more than double the 2.6 fatalities for any other day. According to their research, the deadliest hour on Halloween night occurs between 6:00 and 7 :00 p.m. and over 60% of Halloween accidents happened between 5:00 and 9:oo p.m.
Needless to say, careless driving can transform Halloween night into a very real horror for all the wrong reasons. With this in mind, your friends at
Finnegan Chrysler, Jeep, Dodge, RAM
offer the following driving safety tips for Halloween.
PUMP THE BRAKES
Most residential neighborhoods require drivers to keep it under 30 mph in an attempt to keep the number of pedestrian accidents to a minimum. Of course if you ask anyone who lives in a suburban neighborhood or subdivision you know far too many drivers believe residential speed limits are optional. It's important to monitor our speeds through subdivisions at all times and especially on Halloween night. When trick-or-treaters are out and about, it's a very good idea to observe School Zone speeds (10 mph lower than the regular posted speeds). Slow and easy is the only way to roll through the 'hood on Halloween.
DO YOU SEE WHAT I SEE?
Your speedometer isn't the only thing to keep your eyes on. There are plenty of distractions for the modern motorist from cell phones to colorful touch screen instrumentation displays. While most of us believe we're the exception to the rules, the truth of the matter is no one is exempt from the laws of physics. Distracted drivers have a much slower response time than drivers who are paying attention to their surroundings. It should come as no surprise that many auto/pedestrian accidents are the result of distracted driving. When you consider how quickly a small costumed child can (and will) dart into traffic in search for their next treat, the importance of keeping your eyes off of your phone and onto the road cannot be overstated.
LIGHT IT UP
This may sound like a no-brainer, but you would probably be surprised how many drivers either neglect to turn on their lights or intentionally keep them off to "scare the children". The obvious problem with this is darkness = zero visibility. We feel foolish mentioning this "tip" but sometimes the obvious needs to be stated. Turning off your lights when driving through a neighborhood filled with trick-or-treaters of every age and size is a recipe for disaster. So, keep those headlights burning, even in the daylight.
Headlights aren't the only lights you need to use. Signal lights are a vital part of communicating your intentions. Assuming everyone around you can read your mind usually doesn't end well. When turning into driveways or onto streets, be sure to use your signal lights so everyone around you knows what you're doing.
These are just a few common sense tips we hope you'll put to good use when travelling around your neighborhood on Halloween night. If we all work together, we can make sure everyone has a happy Halloween...