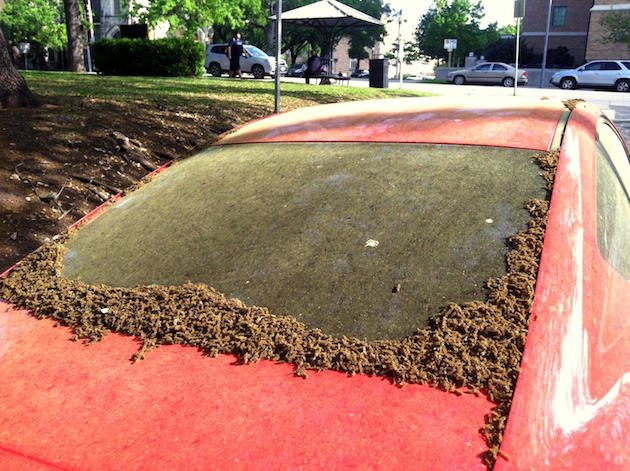 Spring has arrived, and so has the pollen! If you're not ready for the yellow dust storms, then we've got the advice you need to keep your car as pollen-free as possible this spring season! Take a look at some of the ways your car can stay clean, and to avoid brutal allergies.
Avoid Trees
When you park your car, even if it's just for a few minutes to run into a store, try to avoid parking under or near any trees. Trees can create pollen, as well as excess leaves as they develop and change into the spring season bloom! If you can't find another parking spot that isn't surrounded by trees, then be sure to wipe off as much pollen/leaves that fall onto your car while it was stationed that spot as you can.
Clean Frequently
Pollen may just seem like an ugly burden, but it can be damaging to your car's exterior paint. Pollen can scratch, and possibly stain your car, so the more often you clean it the better. A simple hose down will remove the majority of that icky yellow dust, and prevent it from coming into contact with you, reducing your allergies.
Change Your Filter
Your car possesses a cabin air filter and an engine filter. Changing your engine filter will help to reduce clogging and increase the efficiency of your fuel economy. Changing your cabin air filter will reduce the amount of pollen intake into the air that filters through your cabin that you breathe. Both of these will help to keep your car clean and running smoothly throughout the spring season, keeping that pesky pollen outdoors!
Fill Your Windshield Fluid
At the end of the day when you get in your car to go home, you might notice a light coat of pollen over your front and/or back windshields. Fill the windshield wiping fluids in your car so that you can clean off the glass before you head out to traffic. This will not only prevent the pollen from building up over time, but it will make your drive much safer by giving you a clearer view of the road.
Don't let the pollen beat you this spring season, and follow these suggestions to battle the yellow dust buildups! Make a quick pit stop at
Finnegan Chrysler Jeep Dodge RAM
to get your car
maintenance needs
taken care of, and allow our helpful technicians to top off your fluids and have you on your way in no time! While you're there, don't forget to check out the
latest selection
of vehicles for spring.