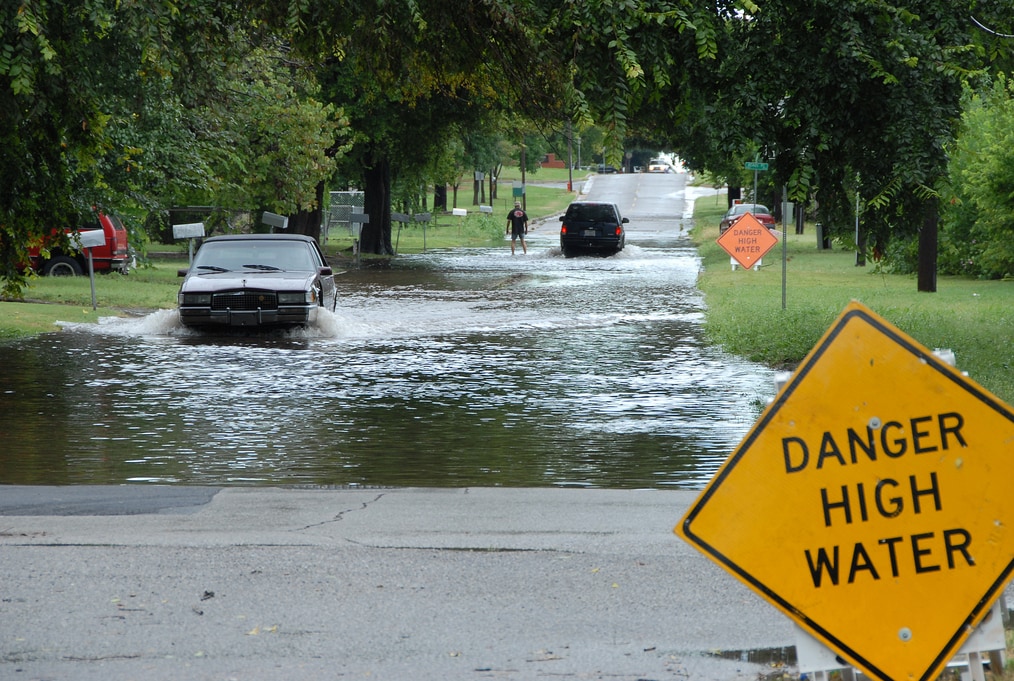 As Houstonians have recently been reminded, flooding can happen unexpectedly. Whether you call them "unpredictable rain events" or a thunderstorm, Gulf coast weather patterns can often wreak havoc on our drainage systems. Tenured Houston residents know all too well how quickly any of our roadways can turn into raging rivers. Unfortunately, not everyone knows the inherent dangers that comes with driving in flood conditions. That is why your friends at Finnegan Chrysler Jeep Dodge RAM are here with the following tips to help you know what to do the next time Mother Nature brings more rain than our drainage systems and waterways can handle.
Follow Government Instructions
When the storms have cleared and you need to get on the road, it's always a good idea to check with the local law enforcement to make sure your area is safe for travelling. While evacuations may not have been called, certain areas may have travel restrictions due to currents and exceptionally high levels of water. Check with your city or county government website. Emergency preparation laws require local authorities to post warnings about certain areas, especially densely populated urban zones. Your television and radio will help keep you clued in. If you must drive, make sure you are fully aware of the current situation and are following all government guidelines.
Steady As You Go
When driving through high water, one of the greatest challenges you'll face is preventing water from invading your engine's sensitive inner mechanisms. One the most effective ways you can combat this problem is to keep a slow, steady pace through high water areas. Speeding through high water is never a good idea as water will easily splash up and into your engine causing you a nightmare of mechanical troubles. A nice, slow, steady pace will get you through most high water areas with minimal damage.
Do Not Use Smaller Vehicles
Smaller vehicles are more susceptible to water reaching the engine compartment. If you're not sure about the depth of a flooded area, before entering the water with your car, stop and watch other vehicles as they move through the area. If water is higher than the bottom of your car frame, you need to turn around and go back, if at all possible. Flood water washing over your hood may look cool but you need to know your vehicle is not amphibious nor is your engine compartment waterproof. As a friendly warning, driving through flood waters is considered to be a disqualifying incident for most car insurance plans. If you find yourself in trouble, County emergency personnel have access to vehicles that can handle flood waters. If you have a medical emergency, call 911. But, do not increase the risk of danger to yourself, your vehicle, or rescue personnel by trying to drive through flood waters.
Stick To The Edge
Do not drive through the center of the temporary pond or river, if you can help it. If you see a way to only encounter water that is three or four inches deep, then take it. Even if you have to apologize for messing up a yard, it is better to buy some new grass seed than to have to rent a car while yours is in the shop. This goes for any flood situation, if one side of the road is flooded, wait until traffic on the other side has died down and take it. Caution is your friend here, as a small wait can save you time, money, and embarrassment.
Don't Panic!
You will need a calm and collected mind when driving through flood waters. You will need to be constantly observing the road, and your engine, all while maintaining a steady speed. If you are worried, or filled with doubt, then take a few moments and collect your thoughts. If the flood water is not too deep, and there is no active current, then you should be able to get through all right, as long as you keep your head. Some people find music helps them forget about all that can go wrong and focus on the task at hand. Whatever works for you, do it!
Do Not Disregard Warnings
Particularly dangerous areas will be blocked off by the government. Do not ignore these closed road signs. If you have a need to travel somewhere in the closed off area, contact local law enforcement for assistance and advice. They will have current information about the safety conditions throughout the flood zones.
At
Finnegan Chrysler Jeep Dodge RAM
we have everything you need to help get your car back on the road in case you've taken on damaging water. Or, if you're in the market for a new vehicle following our recent flooding, we've got exactly what you're looking for in our
massive inventory.
So whatever your automotive needs may be, Finnegan CJDR is here to help you.